Sanatoga Water Conditioning was established in 1958 as a division of Sanatoga Corporation, a locally-owned home appliance company that has been serving its customers from the same location since 1925. We became a separate entity in 2001, and continue to serve our customers with the same personal attention that we always have. Click here to meet our certified staff of water treatment experts…
Compare Sanatoga Water Conditioning
Compare Sanatoga Water Conditioning with a plumber, contractor or even installing water treatment equipment yourself from a big box store, click here…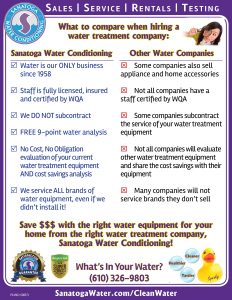 OR, SWC checklist when hiring to reference when interviewing other companies.
Service Area
Sanatoga Water Conditioning serves Montgomery, Berks, Chester and Lehigh counties.
Testimonials
We invite you to read our testimonials and follow us on social media for healthy living tips and important information on local, regional and national water quality concerns.
We are also a proud to be on Angie's List for 10 years and a Super Service Award winner. Click here to review us…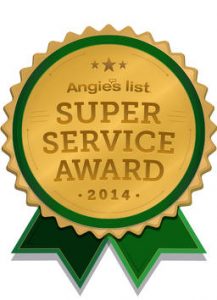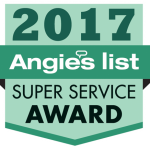 Associations & Certifications
Associations with professional and trade groups ensure that we meet the highest professional standards. Sanatoga Water Conditioning is a proud member of the following organizations: